Friday, May 9th, 2008
If this isn't the coolest new geek-toy, I don't know what is! Fold.it is a new game by Rosetta@home where players fold proteins for high scores. Shockingly, it's actually a lot of fun–you can think of it sort of like a super-advanced version of Tetris. A training mode walks players through the basics, and a challenge mode allows players to compete worldwide to see who has the most l33t folding skillz.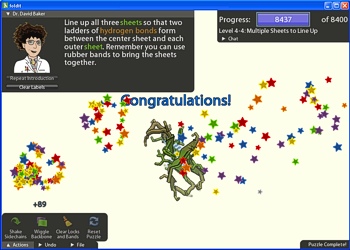 Fold.It – Who says serious games can't be fun, too?
The goals of the research project are to learn what strategies human players use to solve the very complex problem of protein folding so the same techniques can be taught to computers. In addition, players will soon be able to solve protein folding "puzzles" that computers haven't yet solved. While the puzzles currently available are all proteins where the real-life structure is known, plans are to release proteins where the structure is unknown in the very near future–allowing players to participate in real-world research and help save lives. If any break-throughs do occur, researchers have promised to share credit with the player who solved it. How cool is that?
Eventually, players may even be able to design their own proteins!
Download it now: Fold-It